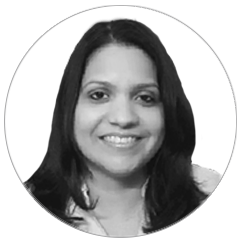 Shweta Kapoor
Shweta's journey with Cellworks began in 2007. Over the last decade, she has developed expertise in analyzing patient networks and drug mechanisms of action. She has in-depth knowledge of complex cancer biology and mathematical modeling.
Head of Precision Medicine and a core member of the R & D team, Shweta uses her expertise to guide the team and drive creation of technology road maps. Shweta manages the 'Precision Medicine Factory', which is central to Cellworks' Precision Medicine Business.
Shweta has a B.Sc(Hons). Degree in Biochemistry from Delhi University, an M.Sc. Degree in Biotechnology from Thapar University and is also GATE qualified.