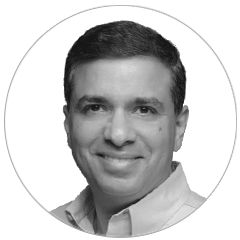 Khush F. Mehta
Cellworks CEO, Khush F. Mehta has over two decades of strategic and operational experience in healthcare. He has led global teams in the United States, Asia and Europe. He channels his vast experience to drive the company's strategy and commercialization as well as build an outstanding multidisciplinary team at Cellworks.
Khush is also currently the Chairman of Arterys Inc., a leader and pioneer of AI in medical imaging. Prior to this, he was the CEO at CardioDx, a molecular diagnostic company that specializes in cardiovascular genomics. Khush's formative experience in healthcare was developed at Siemens Healthcare, where he held various roles including Chief Strategy Officer, CEO for the Asia Pacific region and worldwide head for the Healthcare Enterprise Solutions business.
Khush holds a Masters of Business Administration (MBA) from the Yale School of Management and a Masters Degree in Commerce and Financial Management (M.Com.) from the Sydenham College of Commerce and Economics, Mumbai.